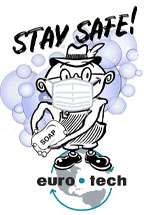 At Euro-Tech Corporation we are committed to providing uninterrupted customer service, particularly right now, during the COVID-19 outbreak. We are taking the necessary precautions to keep our employees healthy and company operating. Our approach to employee safety and business continuity will be to remain focused on facts, act with common sense, make informed decisions and lean on the advice of authorities. We encourage you to follow the Centers for Disease Control (CDC) guidance.
As a distributor of German engineered tooling and workholding products we are dependent on the health of our German suppliers. While most of our suppliers have shortened their operating hours they have assured us they are still open for business and we are looking at minimal delays at this time.
While we may not answer your phone call directly please leave a message and will get back to you in a timely manner. Be assured we are committed to maintaining a high level of customer service through this challenging period and plan to keep you, our customer, informed whenever delivery dates or product availability is affected.